In the fall of 1972 Ray Martin decided to leave his job as Used Car Service Manager/Technician with Nolt Inc, a dealership near Lancaster. Months prior to making this transition, Ray had been repairing vehicles evenings and Saturdays for family and friends out of his garage at home. He decided to take a leap and build a three-bay garage beside his home just South of New Holland and Martin's Auto Service was born.

Ray is the father of three sons who all helped in the shop as they grew up, but it was Ray's oldest son, Larry, who really shared his father's passion for helping others through vehicle repair. Ray felt it would be beneficial for his son to gain some work experience outside of Martin's Auto Service before coming to work there full-time. So, after graduating from Garden Spot High School, Larry worked with a local masonry crew where he continued to learn the value of hard work and attention to detail. After a year in masonry, Larry returned to the garage to work alongside his father.
For the next 20 years Ray and Larry worked in partnership, along with one other technician, growing Martin's Auto Service into a thriving business. In 2007, the opportunity Larry had dreamt about finally came to fruition when the Horning Dodge building came up for sale. With their share of nerves and apprehension, Larry and Ray took a leap of faith and made the investment in this new location on Main Street which more than doubled their capacity.
In 2012 Ray transitioned out of ownership and into semi-retirement with Larry moving into sole ownership.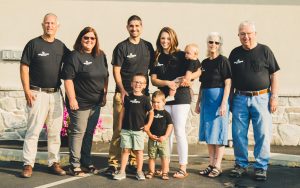 With the new larger facility and Main Street exposure, in 2014, Larry saw an opportunity to offer quality pre-owned vehicles for sale. Elvin Weaver (formerly of Ultra Car Center) joined the team to become the Sales Manager. At the same time, it was decided to change the name from Martin's Auto Service to Keystone Quality Motors to better reflect the full spectrum of automotive service and sales offered.
Both the service and sales departments continue to grow. The service department has four certified mechanics, six bays including Hunter state-of-the-art light and heavy-duty alignment racks, as well as a tire changer and Road Force tire balancer. The sales department has grown to average 15 vehicles for sale ranging from sedans to trucks, both domestic and foreign brands.
Tanner Horst (Larry's son-in-law) joined the Keystone Quality Motors team in 2013 while finishing up college. Since that time, he has been managing the office and enjoys getting to help customers. In 2020, Tanner joined the family business in partnership with Larry and is excited to continue serving the community and grow Keystone Quality Motors.